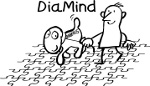 During the meeting we are going to explore how the minds of health care professionals and people with diabetes connect and interact. The main topic of the meeting is going to be empowerment and how it works in people with diabetes.
What is empowerment? Do we, health care professionals, understand our role in the process of empowerment? How does the patient feel and what are his challenges? Are the patient's challenges different from ours?
During the meeting, the majority of time is going to be dedicated to experiential workshops, where hopefully the above questions and specifically your own questions and dilemmas will be dealt with.
It is our great honour and pleasure to have Professor Bob Anderson, a renowned behavioural psychologist and the professor of medical and therapeutic education at the University of Michigan, USA as our guest of honour. More than 12 years ago he was the first to use the term »empowerment« in the context of diabetes. He is a revolutionary in his field of expertise and has numerous scientific publications. In his work he focuses on behavioural aspects of living with type 2 diabetes.
It is our pleasure to welcome also:
Laurie Ruggiero is Professor of Community Health Sciences at the Institute for Health Research and Policy, University of Illinois at Chicago. Her research is in Health promotion/lifestyle change in diabetes. She is focused in underserved populations and how they deal with type 2 diabetes. She has developed population- and technology-based strategies for health behaviour change and has successfully implemented health promotion/disease prevention interventions.
Dr. Arie Nouwen, a behavioural researcher interested in diabetes and depression and issues related to dietary self-care. He uses a range of methods including neuro-imaging techniques to study the relationship between patterns of eating behaviour and cortical processing of food stimuli. He has written a number of key publications. He is Associate Editor of Diabetic Medicine and a senior lecturer at the University of Birmingham, UK.
Dr. Karin Kanc is one of the organizers of this meeting. As a diabetologist, she has her own diabetes practice (jazindiabetes) in Ljubljana, Slovenia and is also an integrative psychotherapist in training. She has been active in the field of psychological aspects of diabetes for more than 15 years and is a pioneer in her country combining diabetes and psychotherapy with psychology.

Who is this meeting for?


Nurses, educators, medical doctors (GPs, diabetologists, pediatricians and others), psychologists, psychotherapists, dietitians, pharmacists and other health care professionals that work with people with diabetes.

Where and when?


City Museum, Gosposka 15, Ljubljana, Slovenia on 4th April 2013.

Registration fee?


Registration fee of 39€ includes: participation at the meeting and at experiential workshops, lunch and refreshments during breaks and materials from the workshop.

How to apply?

Please fill in the
registration form
.
After filling in the application form, you are going to receive the invoice via e-mail, payment confirmation is going to follow by snail-mail. The number of participants is limited to 100 (first come, first serve basis). For information please contact us at
info@drzni.si