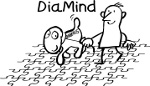 During the meeting we are going to explore how the minds of health care professionals and people with diabetes connect and interact.
The main topic of the meeting will be working with individuals vs groups and working with special diabetes patient groups such as adolescents/young adults and elderly.
How do we, health care professionals in diabetes, understand and approach the individuals and groups of people with diabetes, adolescents/young adults and elderly? What are the special skills we need to be flexible enough in our work? What are our own attitudes that may influence our interaction with people that have diabetes? Do we, health care professionals, understand our role in the process? How does the patient/patients feel and what are her/his/their challenges? Are the patient's challenges different from ours?
During the meeting, more than ever time is going to be dedicated to experiential workshops, where hopefully the above questions and specifically your own questions and dilemmas will be dealt with.
We will also witness two 'live role-play' demonstrations of our workshop leaders, working with people with diabetes, as played by professional actors.
It is our great honour and pleasure to welcome our guests:
Martha M. Funnell, MS, RN, CDE is an Associate Research Scientist in the Department of Medical Education of the University of Michigan Medical School, Co-Director of the Behavioral, Clinical and Health Systems Research Core of the MCDRT and adjunct faculty in the School of Nursing. She is a past President, Health Care and Education of the American Diabetes Association and immediate past Chair of the National Diabetes Education Program and has won numerous awards. She has thirty years experience as a Diabetes Educator with more than 150 publications and over 200 presentations..
Deborah Jefford-Christie is a consultant clinical psychologist and honorary reader in paediatric and adolescent psychology at University College London Hospitals (NHS Foundation Trust). She is currently clinical lead for the department of child and adolescent psychological services in the care of young people with chronic illness (including Diabetes, Obesity, Arthritis, etc.). She was awarded the Diabetes Award in Adolescent Health and Society for Adolescent Medicine best practice award for managing obesity in 2001 and the award for outstanding scientific achievement in clinical health psychology in 2004. Dr Christie is an international trainer and speaker in motivational interviewing and solution focused therapies and has published over 80 papers in peer reviewed journals.
Dr. Karin Kanc is one of the organizers of this meeting. As a diabetologist, she has her own diabetes practice (jazindiabetes) in Ljubljana, Slovenia and is also an integrative psychotherapist in training. She has been active in the field of psychological aspects of diabetes for more than 15 years and is a pioneer in her country combining diabetes and psychotherapy with psychology. Lately, her focus is mindfulness in diabetes and mindful eating.

Who is this meeting for?


Nurses, educators, medical doctors (GPs, diabetologists, pediatricians and others), psychologists, psychotherapists, dietitians, pharmacists and other health care professionals that work with people with diabetes.

Where and when?


City Museum, Gosposka 15, Ljubljana, Slovenia on April 23rd 2015.

Registration fee?


Registration fee of 50€ includes: participation at the meeting and at experiential workshops, lunch and refreshments during breaks and materials from the workshop.

How to apply?

Please fill in the
registration form
.
After filling in the application form, you are going to receive the invoice via e-mail, payment confirmation is going to follow by snail-mail. The number of participants is limited to 100 (first come, first serve basis). For information please contact us at
info@diamind.si